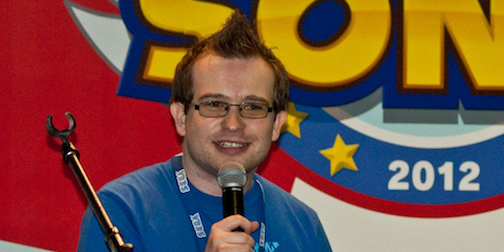 This statement comes from Summer of Sonic creator and co-organiser, Svend 'Dreadknux' Joscelyne.
After five amazing years of creating and organising the world's best-loved Sonic the Hedgehog fan convention, I have decided to retire my position from The Summer of Sonic team. Effective immediately, I will have no involvement in the organisation of 2013's event.

I have passed my duties and responsibilities in developing the convention to Adam Tuff (T-Bird) and Rory Joscelyne (Roareye). Having been key members of the Summer of Sonic team since its very first year, I have no doubt that they will continue to realise our vision for the show, and put on an amazing day's worth of fun for Sonic the Hedgehog fans all over the world.

The Summer of Sonic convention is an event that will forever remain incredibly dear to me. I would like to thank everybody who's ever been involved with the show's development – volunteers, special guests, our collaborative partner SEGA and of course the fans that have attended and helped transform it into the international success it is today.

I will be cheering the Summer of Sonic organisation team on from the sidelines as I prepare to embark on a new adventure. Thanks again everyone – it's been a fantastic ride!

~ Svend Joscelyne
Creator and Former Organiser, Summer of Sonic
We wish Svend all the best for the future! In the meantime, stay tuned for more exciting updates on this year's Summer of Sonic convention!