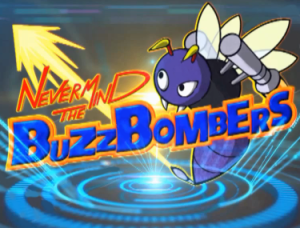 Who wants to win some prizes!? As we enter our 6th year of Summer of Sonic, Never Mind the BuzzBombers returns for its 5th instalment. Always a fan favourite, two captains will lead their teams to battle as they clash in a variety of games and challenges.
But they won't be alone; members of the audience will be selected to join them on stage in order to win some amazing Sonic prizes! So if you think you have an encyclopaedic knowledge of Sonic, make sure you get down to the stage during selection process and you could be the one who turns the tide in your team leader's favour.
And as always, I shall be standing… because we don't have enough chairs… between them both mocking and maintaining order, doing a dance, telling a story, asking a barrage of questions until they can't take anymore as we attempt to find out just who is the best?
This is Never Mind The BuzzBombers 2013!