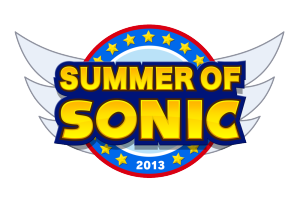 Every year we get a lot of questions regarding SOS from both new and previous visitors. So with that in mind we've put together this F&Q with some of the most commonly asked questions that we get sent to us. Even if you've been to previous SOS events, please give this a read since some details may have changed or there might be something new about this year's event that you didn't know.
Q: How can I find out about SOS news & Announcements?
A: Aside from the official SOS website. We also have several other media outlets which we constantly update and check. They are as follows.
SOS Facebook Page (This is our only Facebook page that we still support).
We also have a dedicated forum at the Sonic Stadium Message Board, this is a good place to talk about the event and ask questions that you need a fast answer to, as well as chat with other fans who are attending.
 Q: Can I enter Summer of Sonic without a ticket?
A: Sorry, but every person who intends to enter the doors of Summer of Sonic must have a ticket which has their name on it.
Q: How old do I have to be to go to Summer of Sonic without a parent or guardian?
A: If you're under the age of 16 you will need to be accompanied by an adult (someone over the age of 18), they will need to register for a ticket as well.
Q: How old do I have to be to register for a ticket to SOS?
A: You have to be aged 18 or over.
Q: What time does SOS start & finish?
A: We aim to open the doors at 10AM, stage events will begin at 11am with an introduction to SOS.
Closing time is around 7PM.
Q: How do I apply for the tickets?
A: You apply through the Summer of Sonic website, specifically, this page. All the information regarding tickets can be found here. Or if you need a quicker answer, try asking at our official forums.
Q: How do I apply for the art classes? Cosplay? Art competition? Buzzbombers? Or other stage events?
A: As we get closer to SOS, we will post announcements for these specific events which will include details as to how you can participate in them.
Q: Will food & drink be provided at the venue?
A: There is a cafe at the venue where food & drink can be purchased; it is only to be consumed in this area. Please do not bring any food or drink into the SOS floor area itself.
Q: Can I leave the venue and come back later on?
A: Yes. We will hand stamp you, or your ticket, or so long as you can show that you have a ticket for the event you can come back in. There may however be restrictions if you leave close to the end to the event and try to get back in. This is due to access/safety reasons.
Q: How do I get to Summer of Sonic?
A: We have a travel guide on this website which can be found here.
Q: Should I bring spending money with me?
A: SOS is free to enter and there will be no charges to take part in events or competitions, however, there is an on-site cafe which will be selling refreshments and there will be multiple merchandise stalls.
Q: Can I get autographs?
A: We hold scheduled signing sessions during the day for most of the guests; we will announce details of these at a later date.
Q: Can I take photos and video of the event?
A: Photos and videos can be taken at SOS; however, there might be some restrictions in some areas such as around the game pods. If this is the case, it will be announced or sign posted beforehand. If in doubt, just as an SOS staffer in the area "Are photos/video ok?â€
Q: During the signing sessions, can I have my picture taken with…?
A: The signing sessions at SOS are always incredibly popular with guests. In the past we've had to make very difficult decisions as to when we have to close the line to the signing area. To ensure that everybody has a chance to meet and greet our special guests as well as receive an autograph, we've had to make the decision that photos during the signing sessions will not be allowed this year. This is to avoid holdups; photo taking takes a lot of time and can cost someone the chance to meet their hero.
You can take photos from the line just before you get to the signing desk, but you are not allowed to pose with the guest and hold up the line for a photo.
Q: Are there any cloakrooms?
A: Yes, the venue does have cloakrooms; items can be stored and looked after for a small fee.
Q: Why can't you host Summer of Sonic in New York? Toronto? California? Paris? Berlin? The Forbidden Monastery? The Land of Green Ginger? Or somewhere near my house?
A: Summer of Sonic is organised by fans working closely with Sega. Whilst we'd love to host an SOS in another region, we cannot do this, because the fans that organise the event all live and work within the United Kingdom. However, for fans living in the United States, Sega are hosting their own event called Sonic Boom, you can find more information about this event here.
Q: I have more questions!
A: If there's something here which we've not covered, either use one of our media outlets (see the first question) to send us a message. Or leave us a comment below and we'll try to get an answer to you asap.