We're super excited to see everyone that'll be with us in London on Saturday, but what about those of you who can't make it for one reason or another?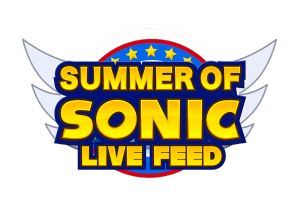 The Summer of Sonic Live Feed, of course! Provided by The Sonic Show, and supported by Sonic Paradox, RadioSEGA and The Sonic Stadium, we'll have (hopefully!) uninterrupted coverage of every stage event, live on Youtube, and also here on the Summer of Sonic homepage.
New this year, you'll be able to choose between two audio tracks. One will feature commentary from Donnie of Sonic Paradox, keeping you in the know on all that's going on throughout the day. Then there's  our traditional "event atmosphere" stream – no distractions, just the stage, the DJs, and the crowd. The choice is yours.
If the video is a bit much for your poor Internet connection – or you just want to put some headphones on and chill out – RadioSEGA will be broadcasting our event atmosphere live on their radio stream at the same time.
Finally, if you were following Twitter last year, you might have noticed a certain event trending on it during the day. We like it when things like this happen, so if you're on Twitter, whether you're watching from home or here with us, why not use the hashtag #summerofsonic to let the world know what you're enjoying?
It's only a couple of days until the big event, so safe travels to everyone coming, whether you're arriving on Friday or jetting in early on Saturday!