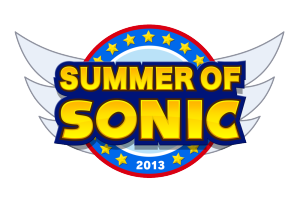 It's what you've all been waiting for…details on how to get your ticket for Summer of Sonic 2013! We are once again pleased to be able to announce that for yet another year, tickets to the event are completely free!
Last year we saw an incredible response, in which Summer of Sonic tickets sold out in less than five minutes across three waves. We know that because of this some of you were unable to get tickets, and so this year we have specifically chosen a venue with an increased capacity in order to better meet demand.
Similar to last year, our tickets will be available in two waves. The first wave of tickets will be available from 7:00pm BST on Friday the 5th of July, quickly followed by our second wave at 6:00pm BST on Sunday the 7th of July. Each wave will consist of 450 tickets.
Our ticket system has also been improved; you will be able to select the number of people you require (a maximum of 4) on your ticket before you fill in the details form, so you won't have to race to complete this before you can apply for tickets. The application form will be available through the Summer of Sonic ticket booking system.
We still expect tickets to sell rapidly, so if you are set on attending Summer of Sonic this year, we strongly advise you are ready and waiting at the moment our tickets are released.
See you on the 3rd of August!