If you are unsure of how to get to the venue for this year's Summer of Sonic convention, don't worry! We have put together this handy little guide to help you get about London easily and find somewhere to stay if you are planning to spend the weekend in the capital.
GETTING TO THE METHODIST CENTRAL HALL WESTMINSTER
The hall is conveniently located within easy walking distance between both Westminster and St. James Park underground stations. To get to the venue from Westminster underground station, proceed west along Great George Street after exiting the station, and turn left onto Storey's Gate upon which the main entrance is situated. To get to the venue from St. James' Park underground station, proceed along Tothill Street, and turn right onto Storey's Gate.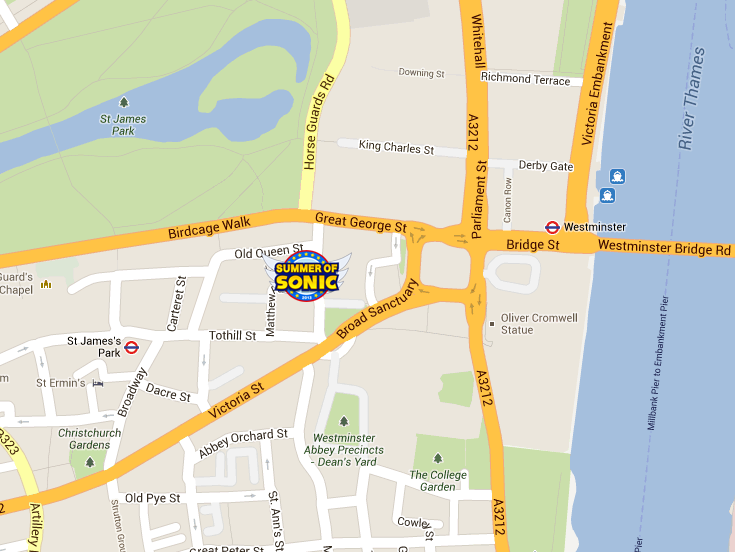 LONDON UNDERGROUND FARES:
London's underground train service provides a quick way to get around London, at a reasonable cost. Most of Central London lies within Zone 1 and 2 (as does Westminster and St. James' Park), and if you do not plan on travelling out of the city, you won't need to buy anything other than Zone 1 & 2 tickets. Single tickets in this zone are £4.50 for adults and £2.10 for children. Tickets can be purchased on day of travel from either ticket offices, or from ticket machines situated in the station. If you plan on making multiple trips on the London Underground during a day, we recommend a Day Travelcard. The cost of this travelcard is £7.30 for off-peak tickets which apply all day on Saturday, and can be used an unlimited number of times during the day. Trains usually halt service around midnight, and resume service between 5:30-6:30am.
For further ticket information follow this link.
You may also wish to consider purchasing an Oyster card which will give you significant discounts on your travel if you plan to sightsee or travel frequently. Follow this link for more information about purchasing an Oyster card.
FROM LONDON VICTORIA:
If you choose to travel by bus to London, your most likely port of call will be London's Victoria station. If you are travelling here, you are in luck! St. James' Park is a single stop via either the Circle Line (yellow) or the District Line (green) heading eastbound. If it is a nice day, why not walk? The venue is a leisurely 15 minute walk away from Victoria station by walking down Victoria Street.
FROM LONDON PADDINGTON:
If you plan on arriving by train into Paddington station, you can reach either St. James' Park or Westminster by taking the Circle Line (yellow) anticlockwise.
FROM LONDON WATERLOO:
If you are arriving at London Waterloo, Westminster station is again only one stop away from London Victoria by taking the northbound service on the Jubilee Line (silver). Again, if it is a nice day, why not take a scenic walk across Westminster Bridge? It's only 20 minutes walk via this route to the venue.
FROM LONDON KINGS CROSS ST PANCRAS:
From Kings Cross St Pancras take the southbound service on the Victoria Line (light blue) to Victoria station. From there, follow the directions given above for London Victoria to the venue.
FROM HEATHROW AIRPORT:
All airport terminals are served by the London Underground Piccadilly line (dark blue). All stations are in Underground Zone 6, and so you will need to purchase a Zone 1-6 ticket at the cost of £5.50; this can be purchased from the Underground station on the day. To get to the venue, change from the Piccadilly line to the District line (green) at either Earl's Court or South Kensington underground station.
FROM GATWICK AIRPORT:
Gatwick Airport has no Underground connections but you can travel into Central London by the train connections. Train fares start from £9.40, with journeys taking around 30 minutes; tickets can also be booked in advance. You can go directly to London Victoria station from Gatwick with this service.
For more information on tickets from Gatwick follow this link.
ACCOMMODATION
If you are travelling a large distance to get to Summer of Sonic this year, you might want to consider accommodation in London. England's capital can be a very expensive place to stay, so we hope our guide will give you some ideas on places to spend the nights before and after Summer of Sonic, especially if travelling on a budget.
TRAVELODGE WATERLOO:
Travelodge offer basic accommodation with en-suite rooms. The closest Travelodge hotel to the venue is London Waterloo. Rooms cost around £120 a night, with the opportunity to book twin and triple rooms to accommodate up to three people if you are travelling to Summer of Sonic with friends; a great idea if you're looking to split room costs.
For more information and booking follow this link.
PREMIER INN LONDON WATERLOO / VICTORIA:
Both of these hotels are located near the two big travel hubs close to this year's Summer of Sonic venue. Prices are fairly similar to that of the Travelodge (currently around £130 per night) for double or twin en-suite rooms. Again, another good choice if you want to stay reasonably close to Westminster.
For more information and booking follow this link.
THE BRIDGE HOTEL:
If the chain hotels of London are a little out of your price range, there are a whole host of bed and breakfasts and smaller chain hotels dotted around the area – particularly London Victoria. One such hotel close to Waterloo is the Bridge hotel – this offers a host of rooms including single (£65 a night), twin rooms (£89 a night) and triple rooms (£105 a night). A very reasonable price for this location!
For more information and booking follow this link.
LONDON EYE HOSTEL:
If you are coming to Summer of Sonic on a budget, you may want to check out the London Eye Hostel. The hostel offers shared and group dormitories about 20 minutes walk from London Waterloo, with individuals stays costing as little as £26 a night. If you are travelling in a large group you can book group dormitories and further reduce your costs.
For more information and booking follow this link.
VICTORIA ASTOR HOSTEL:
A short walk from Victoria train station, the Astor Hostel is another alternative to staying in a hotel; beds start as little as £24 a night, with options for staying in 4, 6 or 8 person dorms. If you're travelling with a big group of friends and are looking to do it on a cheap, you might want to consider booking this as your choice of accommodation.
For more information and booking follow this link.
STAYING FURTHER OUT?:
If none of these options suit your preferences, why not try looking for accommodation further away from the city centre? Hotel prices drop significantly once you leave underground zone 1, so you may want to consider travelling longer on the underground in order to reduce costs.
If you require any further information please contact tbird [at] sonicstadium [dot] org.